Description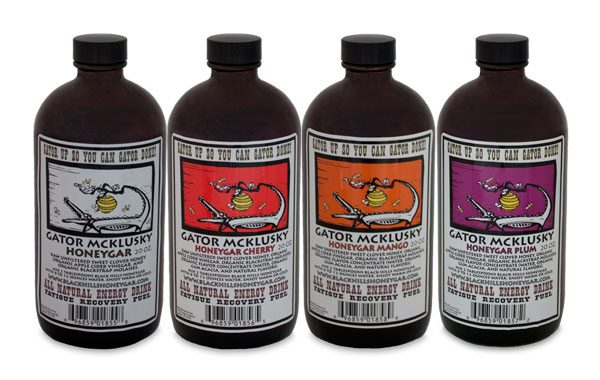 Gator McKlusky Honeygar All-Natural Energy Drink is a concentrated blend of raw, unfiltered honey, apple cider vinegar, and blackstrap molasses.
How to enjoy Honeygar All-Natural Energy Drinks
Mix two tablespoons of honeygar in eight to twelve ounces of warm or cold water and enjoy! Each twenty ounce bottle of honeygar makes twenty 8-ounce glasses of Gator McKlusky.
What makes Honeygar so good?
Honey has long been regarded by athletes as a "reserve fuel" that burns slowly and takes no energy to break down. Honey helps prevent muscle fatigue and recover rapidly from exertion.
Vinegar immediately increases circulation and significantly reduces mental depression.
Blending the whole apple (with the mother) and raw honey (with live enzymes and minerals) helps build good flora, cleans the digestive tract, and aids in the removal of calcium deposits from muscles and joints.
Honeygar is an excellent source of potassium and helps reduce sinus infections, sore throats, and skin conditions such as acne.
What our customers are saying about Honeygar All-Natural Energy Drink
Linda:
Found this amazing elixir during Sturgis. Wish i would have bought more! Great way to start my day! Gives me a lift:)
Peake:
Great natural source of energy!
Tricia
Love this product! Get's me going for the day!!
Vickie:
Love love this product. I can make it as strong or weak as I want. Great afternoon pick me up beverage.
Kim:
This cherry honeygar is absolutely delicious and a wonderful alternative to apple cider vinegar. I am eager to see the results with consistent consumption, as the benefits look very promising!
Oliver:
Wonderful product. have my whole family on it. so much better than plain apple cider vinegar regimen.
Benefits of Honeygar All-Natural Energy Drink
Vinegar
Vinegar immediately increases circulation and therefore moves stasis – be it emotional or physical. Due largely to its mineral content (especially potassium) and its ability to normalize the body's acid/alkaline balance, apple cider vinegar has long been valued as a folk remedy.
Internally, it cleanses the digestive tract. Its acidity aids in the removal of calcium deposits from joints and blood vessels without affecting normal calcium levels in the bones and teeth. Vinegar energizes the stomach and liver meridians, assists with digestion, and moves blood stagnation. Vinegar is warming and detoxifying; it quickly resolves liver congestion and can significantly reduce mental depression.
Honey
Honey contains all of the vitamins which nutritionists consider necessary to health. It has been proven that bacteria cannot live in the presence of honey because honey is an excellent source of potassium. The potassium withdraws from the bacteria the moisture which is essential to their very existence.
Potassium and Sodium
Potassium and sodium carry on a lifelong duel, fought over the supply of fluid. An individual cannot afford to lose potassium because it is the one mineral so necessary for proper performance by the nervous system. Black Hills Honeygar All-Natural Energy Drink is an excellent source of potassium.
Blackstrap Molasses
Blackstrap molasses is high in iron, which is a vital mineral used by the body in its production of red blood cells. We build hemoglobin out of our food, and it has a certain power, carrying that all-important oxygen to our body tissues. Were it not for its iron content, hemoglobin would not have this property of holding oxygen.
Honeygar All-Natural Energy Drink…
Is nonirritating to the lining of the digestive tract
Is easily and rapidly assimilated
Enables athletes who expend energy heavily to recuperate rapidly from exertion
Has a natural and gentle laxative effect
Has a sedative value, quieting the body
Reduces sinus infections and sore throats
Balances high cholesterol
Cures skin conditions such as acne
Prevents muscle fatigue after exercise
Strengthens the immune system
Increases stamina
Increases metabolism which promotes weight loss
Improves digestion and cures constipation
Alleviates symptoms of arthritis and gout
Prevents bladder stones and urinary tract infections
Not intended to treat, cure, or prevent disease.