Description
Vintage Sweet Clover Honey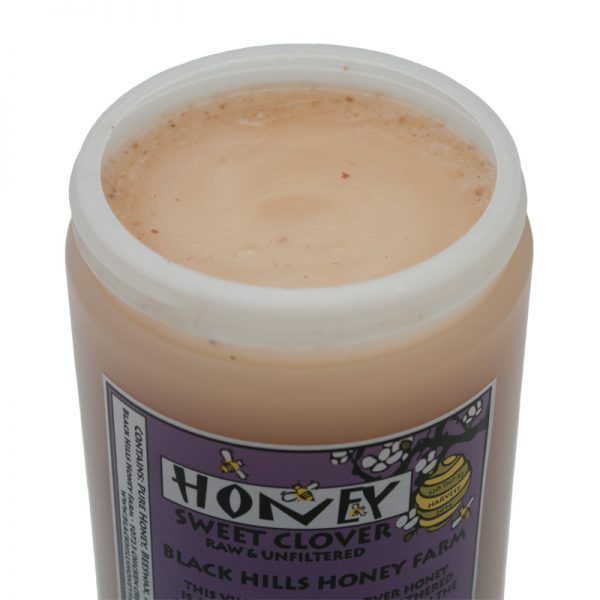 Our vintage sweet clover honey is a raw varietal unfiltered honey gathered in select years in the Black Hills of South Dakota. Each varietal honey is as unique as its floral source, and this distinction and quality is harvested and hand-bottled by Black Hills Honey Farm.
Available in a variety of sizes that are convenient for you. Order your raw honey today and discover just how good real unfiltered honey can be!
The best tasting honey you can find anywhere
True artisan sweet clover honey that is raw, unfiltered, varietal, and "Oh, so good!" Try it once and you won't want any other honey!
Our customers LOVE our raw unfiltered sweet clover honey!
Don't just take our word for it; listen to what these satisfied customers have to say.
Beth:
Purchased a bottle of this local honey recently and will never buy another brand. The texture and flavor is unbelievable….Thanks, Black Hills Honey Farm, for making such a wonderfully natural and non-processed product!
Diana:
We bought this while we were on vacation. The best honey we've ever had!
Josh:
The best honey I have tasted. Once I tried, I never looked back.
Leanne:
We are always looking for South Dakota made products. When we found this honey in a local store we had to try it. It has such a wonderful, pure flavor and we have really enjoyed it.
Steph:
Literally the best honey I have found here in the USA.
Lawrence:
It's just amazing how something so sweet could be so nutritious. The consistency and flavor of the raw, unfiltered honey is unbelievable!!!
Karlene:
This is simply the best honey we have ever purchased.
Jennifer:
Purchased the honey while on vacation in South Dakota, BEST & SWEETEST honey I've ever had!
Cynthia
While on vacation we found Black Hills Honey Farm's unfiltered honey at a small grocery store in South Dakota. Best honey ever! I don't usually go through a jar of honey very fast but theirs is really delicious. You will love it!
Alice:
Super yummy honey! I love the glass gallon option. This is as good as it gets!
Pooh Bear:
THIS…HONEY…After trying this honey, you will understand why Whinnie the Pooh walked around with a jar of honey. I can guarantee you it was from Black Hills Honey Farm…You have been warned…buy at your own risk. It is dangerously delicious and addictive on any crumb of food.